Hey all! As promised, for my next few WIAWs I'm going to be featuring some of the fun things the hubby and I ate while on our recent honeymoon in Europe. We were there a total of 26 days and traveled through 14 cities: London, Paris, Cologne, Berlin, Prague, Budapest, Vienna, Munich, Padua, Venice, Florence, Rome, Madrid, and Barcelona. I won't be sharing photos of EVERYTHING I ate because you probably would get tired of that–and because the hubby got tired of me stopping to take photos (like a total tourist) of everything I was eating!!
I don't have any photos of our London food because our time there was a bit of a blur, but here's the rundown for Paris!
First, a dinner at a cafe near our train station. We of course had to go all cliche and get some wine and an assortment of meats and cheeses. The meat was a little greasy for me but it was a fun experience nonetheless.
For dessert I had to have some crepes. They were served with bananas and ice cream, and all just drowning in chocolate syrup. The hubby asked for the special that night, a puff-type pastry with strawberries.
They were…delicious…
Okay, so you have to promise me you won't tell the hubby about the next two photo. I was debating about whether or not I'd share them, because by the time I took the photos I had already ripped into them like a tiger with a big piece of steak (that's what I resemble when I see sweets). But I didn't think I could post anything about Paris without sharing something about their pastries.
The first thing I tried was kind of like what I'd compare to the kuchen I grew up having in North Dakota: Kind of like a custard pie that's topped with fruit, except with a soft crust made of sweet bread dough. This one had apples and slivered almonds in it.
Sorry about the partiality, but it was great and I thought you'd forgive me for not being able to control my appetite before taking the shot.
Apparently I couldn't get enough apples in Paris, because my next pastry was an apple tart.
Just a couple of bites gone this time. It wasn't as good as the first one.

Last, had to share a couple of Eiffel tower shots. It actually started raining right before we got there, but it made for a beautiful and romantic atmosphere.
Today's question: Have you ever been to France? What was your favorite thing to eat? If not, what's the first thing you'd want to try if you had the chance to go there?
Next time we'll be venturing to Cologne, Germany. Can't wait to show you what we found there! Until then–
Keep in touch and keep it real!
Justine Duppong
Wonderful blogs I've linked up to: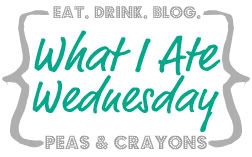 <img border="0″