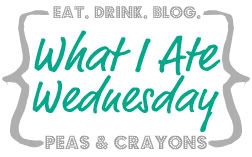 Well, I had to kick myself in the butt to put together my "What I ate Wednesday" post for this week, since my husband and I have spent the past few days cleaning and packing up our things to get our house ready to sell before we move in July. My husband is going back to school and so we'll be literally moving across the country, from North Dakota to Mississippi! I'm sad to be leaving our families (especially since my cutie nephews live literally BLOCKS from us right now) but will definitely not miss the winters here!
We cleaned out our entire basement, so nothing is left except my workout equipment (the realtor said it could be a selling point for potential buyers to see the space as somewhere they could set up their own home gym):
Here, the lonely punching bag I got for my hubby for his birthday last year!
At the end of the day, many of our belongings were packed up into totes in our sparkling clean garage (seriously, the floor is shiny now!):
Anyhoo, enough of that–now to the eats! I had a quick gourmet breakfast of my absolute favorite granola bars, Kashi dark mocha almond (I put them on a plate so they look even fancier):
I had a craving for some chocolatey goodness at lunch, so I made a variation of my chocolate protein pudding. This time I added fiber one and raisins (yum!) as well as some coconut extract since I'm trying to empty out a bottle from the cupboard (double extra yum!!). I also had another granola bar with this, as well as some mixed nuts from the cupboard.
For the rest of the day before supper I subsisted on handfuls of one of my favorite cereals (try it if you haven't–it's addicting):
I didn't photograph supper because things were really busy, but I had one of my favorite quick and easy meals, the creamy chicken flavored ramen noodles with frozen broccoli/cauliflower and some canadian bacon I got on sale last week. Mmm!
Luckily for me, my husband didn't see me taking pictures of my food while we were trying to get everything done. But I'm happy I could snap at least a few to share with you!
I'd better get back to work. Keep in touch, and keep it real!
Question: What's your favorite "quick" food to eat when you're super busy?
Related articles